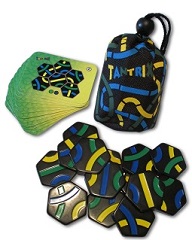 Tantrix Puzzle Pack


This 14-tile pack represents the sweet spot for play value, especially for travellers and frequent cafe customers like the Inventor! Which is to say that for Solitaire Players, the value per cost, and value per weight are both maximised at 14 tiles.

The Puzzle Pack combines the best features of Discovery, Solitaire and Match with some amazing new twists. The total number of puzzles is 40, from easy to expert, and includes 12 puzzle cards. It also includes a new version of Solitaire and the "Ultimate Quest".

Two years in the making, Quest is the hardest Tantrix puzzle to date. With 87 billion combinations, it will take months or even years before anyone in the world finds a perfect solution. The Puzzle Pack has just gone on sale and the current Quest World Record is 10 consecutive attempts. Please contact us if you are close to breaking this record!