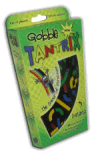 2009: Tantrix Gobble

Tantrix Gobble was the next step in the evolution of Tantrix. This new variation of the TGP adds a party edition of the game called Gobble. Suitable for up to six players, Gobble is an interactive elbows-around-the-table game which rewards speed over strategy. In Gobble, it is easy to handicap players so adults, kids, experts, and novices can all compete evenly.

Other improvements included are the new, easier to handle tiles, the softer bag, and the friendly, cartoonised instruction booklet. Of course, this edition still contains Tantrix Solitaire, over 40 puzzles and the award winning Tantrix Strategy game for 2-4 players.