WORTH A LOOK


What's new?


A cool new feature for submitting tournament results: For years this was a manual process which required you to record results and retyping them. This has now been automated with a simple click: "Fetch Results".

More info Archive

On the Web since 1996


Tantrix.com is an independent game server. No pop-ups, no ads, no fees. Instead you will be welcomed by a community of players built mostly by word of mouth.



Are you competitive?


Find out where you rank this month, over the year or in your country. Or participate in one of the regional Tantrix tournaments organized throughout the year.

More Info
CONNECT - DISCOVER -

STRATEGISE
What is Tantrix ?

Tantrix is an elegant coffee-table strategy game from New Zealand. Its intriguing mixture of skill and chance makes Tantrix a fun family game, at the same time as being utterly addictive to the serious player. Tantrix also includes a comprehensive collection of solitaire activities such as the Discovery and Rainbow puzzles.
The game begins

In the Lobby you will meet an eclectic bunch of players from beginner to expert and Tantrix socialites from different countries. If you just want to learn the basics, then start by challenging one of our resident Robots to a match. Whether you are here to spectate on games in progress, meet friends or have a go yourself, good luck and have fun.
Daily Match Puzzle

Tantrix Match now has an online edition which comes in a sequence of three puzzles and changes every day. Each puzzle has only one unique solution, and skilled Tantrix players may be able to solve all 3 in just a few minutes. Find out how good you really are!



The Story so far

The first version of Tantrix was published in 1988 and called the Mind Game. Improved editions soon followed, changing materials, packaging and game design.

More Info
Tantrix - A unique gift

Tantrix has evolved from a simple two-player cardboard game to an elegant range of products. The latest edition contains a colourful, illustrated guide with activities to last a lifetime.

More Info



Stay connected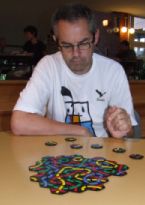 Tantrix Tournaments


The most social Tantrix event on the calendar, the World Table Open WTO was finally held in swedish Trosa after two covid-related cancellations. The "Hall of Fame" shows all winners of online and table tournaments.

More Info

Get involved


A lot is happening behind the scenes to keep the Tantrix server running. Browse a list of projects we would love to find volunteers for.

More Info

Tantrix uses Java


To play Tantrix online, you need to have Java installed on your computer. It might be installed already, but if not, you can add it now.

More Info