Qualification criteria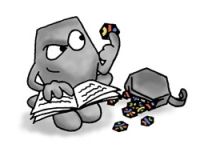 The following qualification criteria apply to the Master title and are designed to ensure a good level of play and commitment. The number of Masters is limited to 100, effectively representing the current top 100 Tantrix players in the world. Master status is not guaranteed for life. Players who no longer meet the criteria due to inactivity, unsporting behaviour or poor performance may be demoted.

To become a Master, a player needs to:


Have gained 950 points in the lobby ranking in good style.
Have demonstrated their ability against a variety of players.
Have participated in at least one ELO rated Tantrix tournament.
Have developed a reputation for honest and friendly play with a clean record.
Provide a few biographical details for the Master database.
Decide on a player name which will represent them longterm.

If you think you have qualified and would like to become a Master, please email us.